News and Events - 2013
---
Spring / Summer / Fall 2013 - Yikes, I suddenly realized I have neglected reporting news and events of Saltbox Farm Dressage. I will summarize the seasons! Thank you to all my students for their support and strong desire to master the art of dressage. Teaching, judging, coaching and conducting clinics gave me a wonderful tour of the New England States. I love the variety and the opportunity to meet new riders and their wonderful horses.

A huge "Thank You" to Oak Hill Farm, Beland Stables, Windswept Farm, Bradford Equestrian Center, UNH, Peppercorn Farm, Anne Prescott Stables, Murphy Eventing, and Elysium Farm. I am privileged to work with these wonderful farms, which provide an outstanding environment for students and horses. I congratulate all my students on their successes and milestones with their riding.
My own education continues with monthly lessons with the Master Karl Mikolka. I regularly attend Judges training and Dressage symposiums to keep my knowledge sharp and my teaching fresh. My own horse, Crooner, is progressing quickly and loves his work. We competed once this season and he was outstanding, scoring in the high 60's and 70's at First and Second Level.
I look forward to the challenges and rewards this sport brings us. I am, not-so-secretly, praying for a mild winter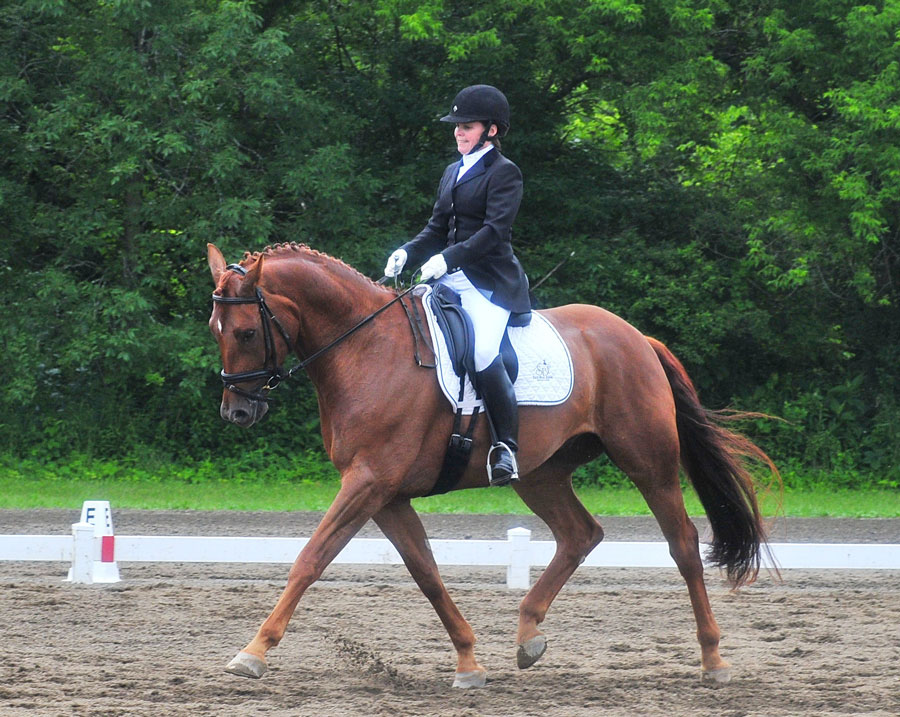 ---
Winter 2013 - Ah, the New England winters! I know there have been winter's past with colder temps, greater snow fall or both together. However, the winter of 2013 never seemed to end. Thankfully, I am not alone during these long months of dark and frosty days. My wonderful students and horses keep my spirits up!
January's free time was spent in the pursuit of continued education. I attended the United States Eventing Association's
Area I Annual Meeting and caught up with many old friends. The meeting's guest speak was the renown Farrier from Cornell University Veterinary School Steven Krause. His talk was eye opening in regards to confirmation and soundness as it relates to the foot and shoeing. Later in January I met my old friend and student Angi Voss in Wellington Florida to attend the Global Dressage Forum of North America. It was a fantastic learning opportunity with Stefan Peters, Ingrik Klimke and many other greats of the dressage world. All presenting their systems and training philosophies with the top demo riders and horses from the Florida circuit. A huge thank you to my good friend Anna Tillman for hosting Angi and I at her beautiful home which was 10 minutes from the event.
In February, I traveled to Connecticut for the Judges Forum at Lendon Gray's winter Weekend Educational Program. There are many new rule changes and new Rider Tests to review and discuss before the schooling show season begins. The night before the session, my dear friends Katie and Doug Rocco invited me to their home for dinner and a sleepover. Katie is also an L Graduate with Distinction and Dressage Trainer.
I continue my monthly clinics at Windswept Farm in Canterbury NH, and 4.0 Farm in Stratham, NH and I now also head north to Peppercreek Farm in Gray, ME as well. All these clinics are fun, with positive and hard-working students and their wonderful steeds.
I continue my monthly clinics with Dressage Master Karl Milkoka and love every minute of my time with him. He has very high praise for my horse Crooner and the training is progressing very well.
---
News and Events Archives:
Click here for News in 2015 >>
<< Click here for News in 2012
<< Click here for News in 2011
<< Click here for News in 2010
<< Click here for News in 2009
<< Click here for News in 2008
<< Click here for News in 2007