Recommendations:
What Students are Saying
I feel very fortunate to have begun riding with Leslie over three years ago.  Not only has she been an amazing instructor who brings to each lesson the insight of a judge's perspective, but, during this time, she has also provided invaluable guidance during the search and purchase of my horse.
Leslie's training and instruction philosophy is systematic, emphasizing the harmony and teamwork of the horse and rider. She has a remarkable ability to explain movement and rider position issues in a manner that are easily understood, implemented, and remembered long after the lesson is over.  Her fun, yet professional style creates a wonderful,stress-free learning environment.  She knows when to drive and push the rider and when to pick the most positive moment so that the horse and rider are not discouraged or frustrated.
The search for the right partner can be long and frustrating with many temptations to "settle" for a horse that may not be the perfect match.  Leslie's unwavering guidance and advice throughout my horse hunting process was priceless. She has an uncanny ability to match a horse and rider, considering both the rider's and horse's capabilities and temperaments.  From reviewing videos in order to identify which horses to evaluate further to travelling cross-country to try them, Leslie provided honest, valuable and sometimes difficult feedback – which prevented me from making the wrong purchase and resulted in my waiting and finding the  "perfect" partner.
I would highly recommend Leslie for any rider from the beginner to advanced. 
- Bobbi Haney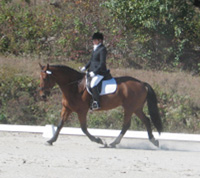 I have been working successfully with Leslie for six years. When I retired my mare five years ago, Leslie helped me find the horse of my dreams. He was a little younger and greener than we were looking for, but he was steady, willing and confident. He possessed all the qualities that Leslie knew I needed to boost my confidence as a rider.
Not only is Leslie an elegant and beautiful rider, she is a stellar trainer and has a sixth sense when it comes to understanding the horse and rider. If you are having a problem with a certain movement with your horse, Leslie will get on and work him through it. Once you hop back on, the horse can do what he needs to do and Leslie will talk you through how to ride the movement.
I love working with leslie. She is wonderful with both horse and rider, and she makes every horse and rider feel special.
- Averill LeBlanc
Leslie has a unique skill of interpreting from the ground what the rider is feeling in the saddle and how the horse is reacting to various rider instruction. Her years of experience both in and out of the ring have resulted in impeccable timing and her pointed direction enables her students to correct themselves within the movement as well as develop correct and systematic training goals. Leslie's training is classical in nature yet her flexible approach customizes each horse/rider team's training program to enhance strengths and develop weaknesses while building confidence. Leslie's ability to teach a rider how to achieve true throughness over the back and connection in the bridle is her greatest attribute and benefits every horse and rider combination.
- Whitney E. Keeley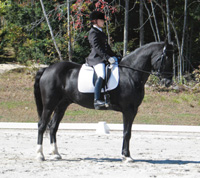 I came to Leslie de Grandmaison as a beginner in the fall of 2004. Only 15 years old and hardly knowing anything, I was to be her working student. With Leslie's time and patience, I have become a knowledgeable and well-rounded rider. Leslie gives her students 110% and motivates them to produce the same. Her talented riding and experience with horses has made her one of the most influential and idolized persons in my life. Someday, I want to do for someone else, what Leslie has done for me. With Leslie's greatly-appreciated coaching and help, I earned my USDF Bronze Medal in 2007. Riding two very different, but equally awesome horses, Leslie guided me to this achievement. I look forward to many more great years of learning and working with her.
- Jackie Pettitt